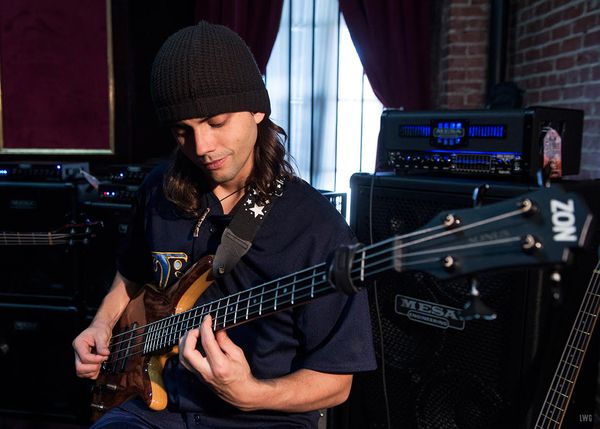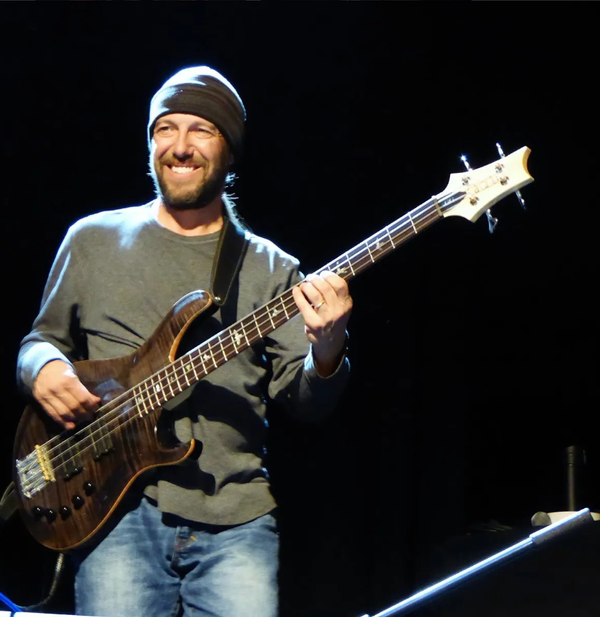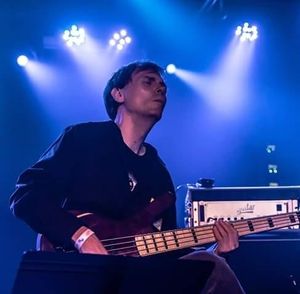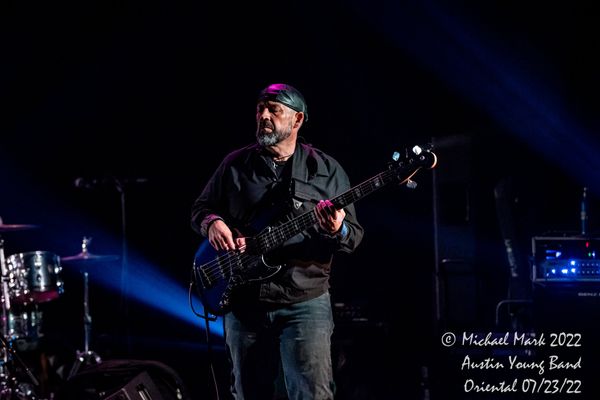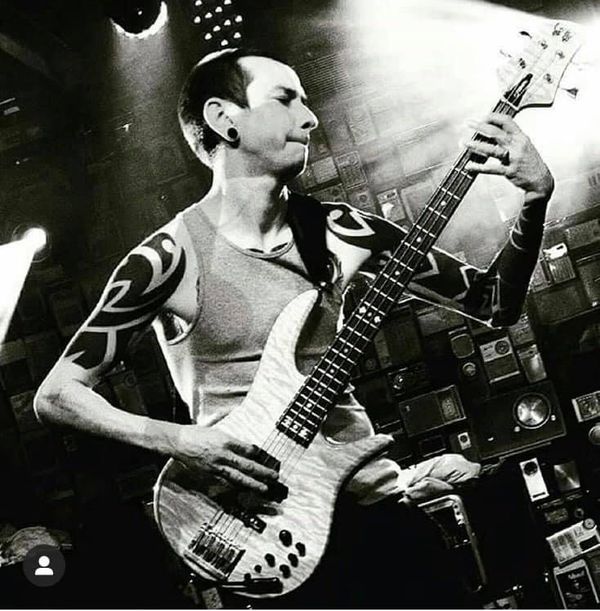 Previous Slammers
Chuck Rainey
www.ChuckRainey.com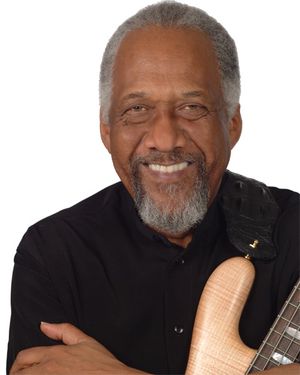 At one time tagged as the hardest working bass player in America, Chuck Rainey's bass playing on successful television shows, motion pictures and recordings illustrate his well-known and legendary style, feel and concept for the instrument and it's role in organized music. His unique bass lines accent numerous commercials and are an integral part of today's music across many music viewing and listening fronts.

The 'Rock and Roll Hall Of Fame' yearly inducts the legends of Rock music. As of 2003, Chuck Rainey's bass lines and rhythm influence are the documented backbone of the original hit recordings of the following artist and the year they were inducted: Aretha Franklin (1987), Marvin Gaye (1988), The Jackson 5 (1997), The Rascals (2000), Steely Dan (2001).

Learning to play the guitar while on military active duty before college, eventually led him to professionally play the guitar with local bands in Youngstown and Cleveland after returning home from college and military obligations. Since his formal training did not encompass improvisational skills, his guitar playing ability was limited to 'rhythm playing.' He began to play the 'electric' bass instrument after it was obvious that his skills were more valuable playing single note patterns, which he displayed as a guitar player.

His arrival in New York City during the spring of 1962 coincided with the beginning of a new era in American commercial music. After a 3 and a half-year stint with legendary FT. Worth sax man King Curtis in New York, Chuck began an illustrious career as a 'sideman' in the recording studio along with Bernard Purdy, Eric Gale, Richard T., Donny Hathaway, Paul Griffen and Herb Lavelle to name a few. Without any argument, he is the most recorded bass player in the history of recorded music and is the most imitated by bass players as a whole.

During the period 1963 thru 1971, Chuck toured and/or recorded with some of the most prominent artist of that era. They include King Curtis, Sam Cooke, Etta James, The original Coasters, Jackie Wilson, Harry Bellefonte, Al Kooper, The Supremes, Labelle, Aretha Franklin, Roberta Flack and Quincy Jones. Of special note; As a member of 'The King Curtis All Stars', the second Beatle Tour of the US took him to Los Angeles where he made a commitment to return as soon as the Universe saw fit.

Moving in 1972 from New York to Los Angeles as a member of Quincy Jones big band, his career as a studio musician continued to grow. Additionally, his unique style brought him opportunities in the television and film industries where he can be heard performing on musical themes and in the source music of numerous motion pictures, television series and sitcoms, along with radio and TV advertisements. he also has composer, arranger and production credits in his career.

A recipient of a grant from The Ohio Arts Council in 1981, Chuck joins the group of a selected few 'music sidemen' who have been a recipient of prestigious awards. They include; 17 platinum or gold records, The Dean Markely 'Life Time Of Achievement' Award, Bass Player Magazine/New York Bass Collective 'Life Time achievement' Award, a record 35 year consecutive placement in the top 10 music poll (category - bass) in Downbeat and Playboy Magazines and the list goes on.

Thanks in part to a brilliant conceptual nature of his musicianship, he made important contributions to the success of pop, rock, jazz fusion and rhythm & blues during the 60s', 70's and 80's. As the 21st century begins, Chuck Rainey is still very much in his conceptual playing ability and performance throughout the worlds music community.

Chuck Rainey's music activities in education reach far out into the world's organized music communities. As music education is a vital part of his playing career and experience, his textbooks and educational video's are tools used by many educators in the curriculums of their local institutions. Self reliant students are also attracted to his learning tools.

Having written and taught the first bass course curriculums for The Musicians Institute/B.I.T. and Dick Grove Music Works Shops, Adds to his experience in the field of music education. He was among the first celebrated musicians to write teaching columns in Guitar Player and Bass Player Magazines in the 70's. His early monthly columns alongside the crew of that time, set the format of success inherited by columnist writing the same columns today
 
Doug Johns
www.DougJohns.com
www.facebook.com/dougjohnsbass
www.twitter.com/dougjohnsbass
www.youtube.com/buzzjohns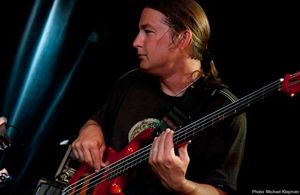 Doug's raw presence, energy, and all-around crowd-wowing prowess can be heard on numerous recordings and stages. Believing that a good musician surrounds himself with great musicians, Doug has had the privilege of working with such icons as Victor Wooten, Buddy Miles, Chuck Rainey, Dana Rasch, The LA Mass Choir, Grammy winning producer Aaron Lindsey, Steve Smith, and many others.

The culmination of these musical experiences led him to his first critically acclaimed solo CD, Doug Johns, released in 2006. Doug followed up his very well-received solo debut with his 2008 release, Pocket Fulla Nasty, and received an outstanding reaction from the bass community, as well as catching the ear of the general public very quickly. Bass Player Magazine on Johns: "One of the most credit–deserving bass virtuosos in America…it's his inventiveness that's consistently compelling."

Doug's newest release, Stank (October 2010), brings ten stank-funk tunes with returning artists Oz Noy, Kenny Anderson, Otmaro Ruiz and drummer extraordinaire, Chris Ceja. With fat slammin' horns, intimate, artful composition and beautiful solo bass, this latest collection is a strong, healthy dose of groove for your soul. Doug Johns and company are definitely guilty of the old adage: Put some Stank on it!

Doug can also be seen on national stages with his two-man project, the Doug Johns Duo, featuring a stunningly musical approach to Bass & Drums. In addition to numerous clubs, clinics, and festival bookings, also look for Doug playing such events as BassQuake, Bass Player Live, Bass Slam and BassBash with a host of other stellar bassists.

Kai Eckhardt
www.kaizone.com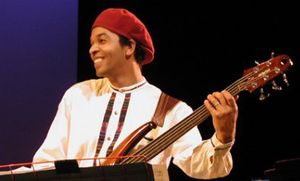 Kai Eckhardt is a Liberian / German bassist known through his work with guitarist John McLaughlin in the late 80's, Billy Cobham in the 90's and Garaj Mahal in the new millennium. Other career highlights include performances and recordings with: Trilok Gurtu, Stanley Clarke, Wayne Shorter, Patrice Rushen, Dewey Redman, Donald Byrd, Bela Fleck, Victor Wooten, Robert Walter, Karl Denson, Michael Franti, Larry Coryell, Warren Hill, Al Di Meola, Zakir Hussain, Vital Information , John Scofield and Bill Frisell.

His active career spans 3 decades. Kai is currently a professor at the Jazz School Institute in Berkeley, CA who frequently teaches clinics and workshops world wide. Teaching engagements include the Berklee School of Music in Boston, the Bass Collective in New York City, BIT in Hollywood, the Anton Bruckner Conservatory in Austria, the Indian Institute of Technology in Chennai, the Amsterdam Conservatory in the Netherlands and Victor Wooten's Bass and Nature camp.

Kai Eckhardt's current projects:

-Fusion Band Garaj Mahal, winner of the 2007 Independent Music Awards, and Chicago Music Awards nominee for 2009.
-San Francisco Rock Band Kbrandow
-Indian Jazz Band Summit featuring George Brooks and Zakir Hussain
-Funk Band RAD featuring Prince keyboardist Rose Ann Dimalanta
-Euro-fusion trio with Alex Machacek and Marco Minneman.
-Turkish singer Sertab Erener

Bryan Beller
www.BryanBeller.com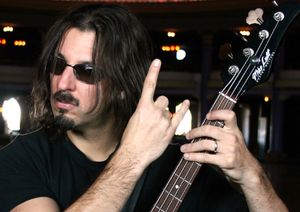 Bryan Beller has maintained a frenetic, multi-faceted career as a bassist, composer, writer and clinician for nearly twenty years. On his own, Beller released his debut rock/jazz fusion solo album View in late 2003 to widespread acclaim, earning the monthly feature in Bass Player Magazine ("...it's a thrill to witness an artist like Beller find his voice with such a self-assured debut..."). His second album Thanks In Advance (2008), a definitive compositional statement about breaking through anger and finding gratitude, garnered even more critical praise ("...a bonafide entry for bass album of the year" - Chris Jisi, Bass Player Magazine). Beller's first live album Wednesday Night Live - a raw, powerful, intimate document of his 2010 touring lineup playing the world-famous Baked Potato in Los Angeles - will be released in 2011 on both CD and DVD.

As a sideman, he's earned a reputation as a uniquely talented yet supremely tasteful hired gun bassist for adventurous rock guitarists and singer/songwriters alike. He was Steve Vai's choice on bass for the live CD/DVD Sound Theories - a collaboration with Holland's renowned Metropol Orchestra - and toured worldwide with Vai throughout 2007, resulting in the 2009 live CD/DVD Where The Wild Things Are. Showing his range, Beller's also in the live "band" Dethklok, a tongue-in-cheek extreme metal band borne of the hit Cartoon Network "Adult Swim" show Metalocalypse; work with Dethklok includes a track on The Dethalbum II and three nationwide tours (one co-headlining with Mastodon). He's also been a musical partner of freak/genius guitarist/composer Mike Keneally (Frank Zappa) for fifteen years, eleven albums, countless tours, and millions of notes. Other sideman experience includes tours with Wayne Kramer (MC5) and Dweezil Zappa, as well as more intimate duo performances with Keneally and, more recently, his wife, Nashville-based R&B/soul singer/songwriter Kira Small, with whom he's played house concerts and listening room venues in 33 states in just 18 months.

Beller's work as a freelance writer includes cover stories on bass luminaries such as Justin Chancellor (Tool), Christian McBride, and Chris Wolstenholme (Muse), as well as a landmark cover feature on the state of heavy metal bass involving ten different interviews. In 2010, Beller interviewed former Governor of Arkansas and 2008 Republican Presidential candidate (and part-time bassist) Mike Huckabee for Bass Player Magazine. He's also interviewed a veritable who's who of the modern bass world: Jonas Hellborg, Victor Wooten, John Patitucci, Lee Sklar, Neil Stubenhaus, Jay DeMarcus (Rascal Flatts), Justin Meldal-Johnsen (Beck, Nine Inch Nails), Bill Laswell, Jimmy Haslip, Stefan Lessard (Dave Matthews Band), Matt Garrison, Adam Nitti, Oteil Burbridge, Dave LaRue, Miroslav Vitous, Billy Sheehan, Emmy-award winning television scorer W.G. "Snuffy" Walden (The West Wing), and myriad others.

As a pure player, a masterclass clinician (sponsored by Mike Lull Custom Basses, SWR Amplification and D'addario Strings), a Contributing Editor for Bass Player Magazine, and a former Vice-President of SWR Sound Corporation, Beller brings a global perspective to the world of bass, and sits at the intersection of many of its current pathways. After thirteen years in Los Angeles, he now lives in Nashville with his wife Kira (and their cat Lucian), and continues to travel often.
 Paul Rogalski
(Mojomama /
Mojo's Music Academy)
www.Mojomama.net
www.MojosMusicAcademy.com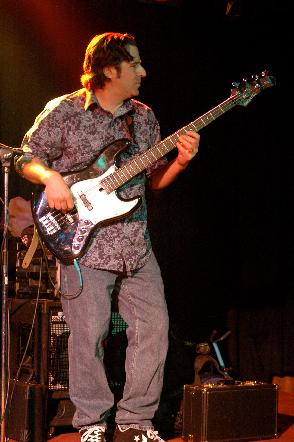 Paul Rogalski is the bassist from Mojomama. Paul also owns and teaches at Mojo's Music Academy. Paul is from Boston Massachusetts and graduated Berklee College of Music in the early 90's with a Professional Music Diploma. Shortly thereafter Paul left the rat race of the East Coast to find residence in Boulder Colorado. Paul also teaches electric bass full time and offers all of these experiences he has embraced over the years to the next wave of future bassists
Glenn Tapia
(DuFour Band)
www.DuFourMusic.com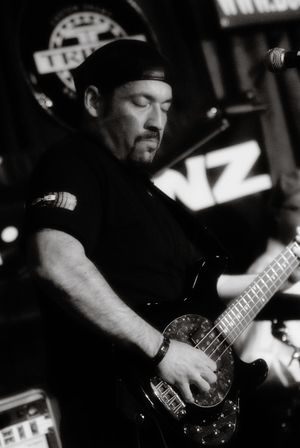 Glenn Tapia is the bassist for twolocal bands - BiggaDigga (Rock-Infused Funk and Groove) and DuFour (VooDoo Rock, Blues, and Funk).  Glenn first began on the bass in high school after stumbling on the instrument at the recommendation of his band teacher for a single gig.  After several college years of attempting rock stardom with an electric guitar, Glenn realized that his true musical place was in the low end  - at the bottom of the groove.  Glenn is inspired by pocket players like George Porter, Jr, Chuck Rainey, Bootsie Collins, and James Jamerson.   Glenn has also derived inspiration from many of the local bass players featured at the bass slam in '08 and '09 as well.  Glenn has also grown a strong appreciation for the new generation of bassists like Adam Nitti, Oteill Burbridge and the like.
Andy Irvine
www.myspace.com/andyirvinebassist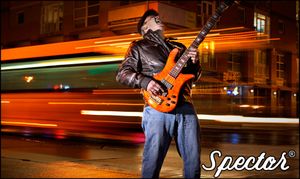 Andy Irvine is best known for his driving bass grooves, huge tone, ferocious soloing and song writing skills. His vast experience performing on the road and in the studio find him equally at home holding down thick fundamental support lines, ripping off aggressive bass solos and all points between. He has been influenced by funk, soul, blues, Jazz, gospel and various rock styles of music. With a playful musical personality and dynamic presence on the stage, Andy radiates with passion and love for his craft.
"Over the years I have developed a bass guitar style that's all my own, It's always funky, fundamentally rooted with an aggressive rock delivery and attitude"
As a top call freelance side man/session musician Irvine spends a great deal of time performing on the road and in the studio with various artists covering a wide range of styles. Andy is currently touring and performing live with: Mississippi based piano virtuoso- Eden Brent, Eddie Turner and Trouble Twins-, Colorado based blues Duo- The Jelly Roll Bakers, Legendary Rock&Soul artist- Sammy Mayfield and his own Andy Irvine's Project Mind Flip. His history also includes national touring with such groups as On The One, Giant People and founding the south Florida "futuristic groove trio" Beanstalk. Andy has contributed his solid bass and electric guitar work to 40 albums with national and international artists ranging from legendary cult troubadour Tiny Tim to the intense and
bazaar shock rocker GG Allin thus far in his career.
Irvine was featured in an interview/article on soloing in the March 2009 issue of Bass Player Magazine, the magazine
refers to him as a "soloist sensation". He is a dedicated educator of music and is currently presenting concert clinics nationally with the support of his sponsor/endorsements:
EMG Pickups, SWR Amps, Spector Bass Guitars, Black Diamond Strings, Levy's Leather straps & gig bags, Excetylene Pro Audio
, Babicz Full Contact Hardware, Essential Sound Products PowerChord PRO, Jensen MEGA acoustic Bass and Stratage electric guitars.
Since launching his clinic series in 2009 Andy has presented 35 bass clinics nationally, and appeared on behalf of Spector basses at both the 2009 and 2010 Bass Player Live events, and the 2011 winter NAMM show held in LA. In 2011 20+ clinics are slated.
" I get a great deal of satisfaction and personal rewards from sharing my gifts with aspiring musicians young and old"
"Giving back is and has been a huge part of my musical journey thus far, with the help of my sponsors my reach has
really expanded and that's incredible, a dream come true"
Andy's debut solo album "Soul Clap" was released in June 2009. The album, comprised completely of his
original compositions features his unique and diverse styles in both bass and electric guitar. In addition he produced
and released Soul Clap independently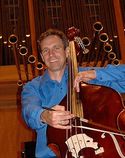 Paul Erhard has taught Classical Double Bass at the University of Colorado College of Music since 1986. In addition to his classical double bass teaching activities, he teaches Jazz Bass Class, Orchestra Audition Class, Improvisation for Strings, and coaches chamber music. Prior to coming to CU, he was the double bass instructor in the music department of the State University of New York (SUNY) at Albany. A native of New York, Dr. Erhard earned his Bachelor of Music degree from the Eastman School of Music as a student of James VanDemark, and his Masters and Doctoral performance degrees from the Juilliard School in New York City as a student of Homer Mensch.

Paul Erhard spent two years in Germany as a student of Franz Ortner and Georg Hoertnagel at the Munich Hochschule for Music. He also studied for one year with Larry Hutchinson of the Detroit Symphony, with Stuart Sankey at the Aspen Music Festival, and with Gary Karr at Karr's Hartt Summer Course. An important part of Paul Erhard's musical training were his years studying conducting with Charles Bruck. both at the Pierre Monteux School for Conductors in Maine, and privately.

Paul Erhard has enjoyed many years of professional orchestral experience, and is currently principal bass of the Boulder Bach Festival. He was co-principal double bass of the Sinfonia of Colorado, Denver Chamber Orchestra, the Colorado Ballet Orchestra, and has played often with the Colorado Symphony. Before coming to the University of Colorado in 1986, Dr. Erhard lived in New York City and was principal double bass of the Soviet Émigré Orchestra, the Albany Symphony, and the Queens Philharmonic. Prior to this, he was assistant principal double bass of the Kalamazoo Symphony, Michigan. He has spent summers in the Aspen, Breckenridge, Colorado (Boulder), Grand Tetons Music Festivals, the Yale Music Seminar, and several summers at the Pierre Monteux School for Conductors in Maine

Since 1989, Paul Erhard has been a judge for numerous international double bass solo competitions in Brazil, Czech Republic, Germany, and Hungary. serving on juries alongside many of Europe's leading double bass performers and teachers. He served as a juror for the 1st (2000), 2nd (2002), and 4th (2006) Johann Matthias Sperger Competition held in Germany.


 
Mark Diamond
http://www.markdiamondmusic.com/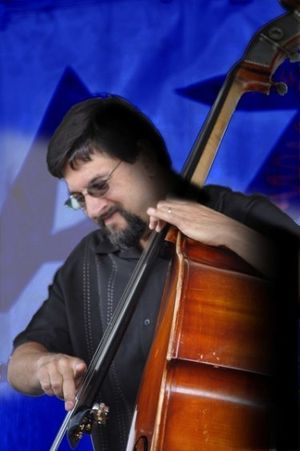 Mark's hard-grooving acoustic bass sound was birthed in the New York area, where he learned to play many musical styles. His professional career started in New Jersey in the mid "70's" at Family & Friends with Jeff Kohnberg and Lisa Cerasia. In 1980 he moved to Colorado with the band Arabesque, and has since been a sought after sideman on over 100 albums, including Grammy award winner Tim O'Brien, Tim and Mollie O'Brien, Sally Taylor, (daughter of James and Carly), James Van Buren with Richie Cole, Keith Oxman, Mary Flower, and Mary Ann Moore. He has played for President Bill Clinton and other luminaries over the years. Mark has toured Europe, and regularly appears at festivals and clubs across the country. He has performed with such legendary performers as Spike Robinson, Richie Cole, James Moody, Ernestine Anderson, Ben Sidran, Peter Rowan, Kenny Loggins, New Orleans piano sensation Henry Butler, Fred Wesley (of the James Brown funky horn section), Buddy Tate, (of the original Count Basie Band), Bruno Carr ( the drummer for Ray Charles, Herbie Mann, and many jazz greats), blues men Eddie Kirkland and Mark Hummel, and a couple of great New York based jazz vocalists Allan Harris and Tom Lellis. Mark has opened shows for B.B. King, Kenny Rogers, Wilson Pickett, Koko Taylor, and Buddy Guy and Junior Wells, to name a few. He is a reliable, personable, talented musician who has dedicated his life to bringing people top quality music in every setting imaginable.

 
Hilary Freeman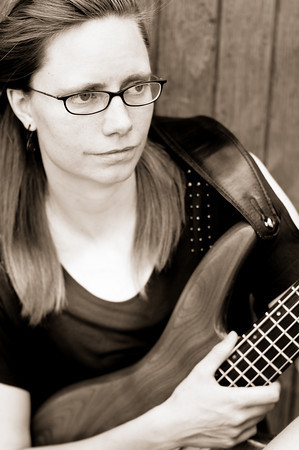 Musically engaged for most of her life, Hilary started playing bass in 1996 when she joined/formed Fort Collins ska/reggae band 12 Cents for Marvin. That band lasted for 12 years, and got to open for Fishbone, The Skatalites and The English Beat. While playing with 12 Cents for Marvin, Hilary also started to branch out, playing with the Colorado State University Jazz I band, the acoustic-guitar based Tim Hanauer Band, Fort Jazz Big Band and the all-female rock band Glass Ceiling. In 2007 she started playing with Atomic Pablo, deepening her understanding of blues and jazz, and building confidence and ability. Currently Hilary can be seen playing with Atomic Pablo and Chaotic Serenity, as well as filling in for various Northern Colorado bands on an as-needed basis.


 
 Ernest Howard

Growing up in New York, Ernest "Hitman" Howard was deeply influenced by the funk, R&B and soul music that his professional DJ father favored. In 1992, Ernest picked up the bass and decided to make some music of his own, joining Blind Thief, a Norfolk, Virginia Van Halen tribute band. Ernest then moved to Tulsa, Oklahoma where he formed the all original,alternative metal band, Shaft. After two years and many rejection letters from major record labels, he gave it all up to settle down in Colorado and do the domestic thing (school, family, work). In 2006, Ernest's muse returned when he picked up the bass after a 10-year absence and began studying with Paul Rogalski of Mojomama. Four years later he returned to the live band world and formed the '80's cover band, Retrosonics with Adam Huch. In 2011, Ernest returned to his R&B/funk/soul roots when he joined Thumpin'. When he's not holding down Thumpin's bottom, Ernest enjoys spending time with his wife and three kids, cooking, tennis and watching professional sports
 
.